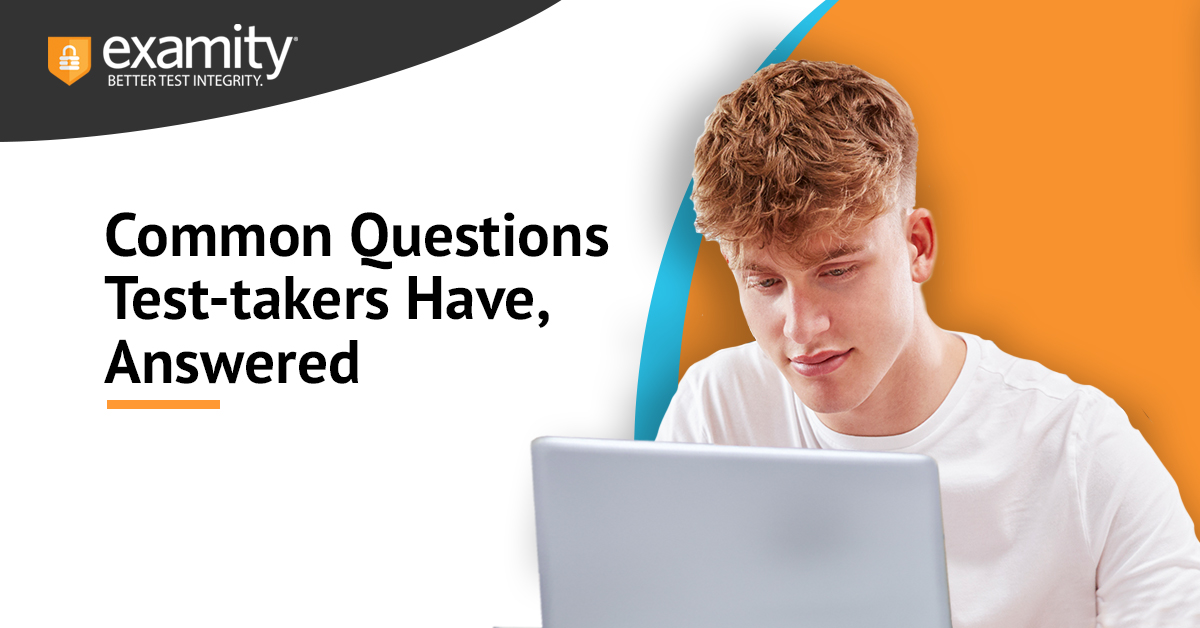 Common Questions Test-takers Have, Answered
If you're taking an exam with Examity, you may have visited our website or our Test-taker FAQs page to learn more about us and our solution. While our website provides valuable information, you still may have questions about the testing process with us. Here are the answers to some of the most common questions we are asked.
What is live proctoring and automated proctoring?
Your test sponsor will choose one of our solutions to use for your exam. We offer four different solutions, and they are either live or automated. Exams using an automated solution are monitored by our auto proctoring technology. If your exam will be using one of our live solutions, then a live proctor will observe your exam.
 
You can learn more about our different proctoring options by reading these blog posts:
How do I find my exam results?


Examity does not receive any exam results. Please reach out to your institution or organization for your exam results.

 

How do I create an Examity profile?
You should have received an email from Examity in regards to an exam you will be taking. Click on the link in the email to begin setting up your profile. If you are using a learning management system or candidate management system, you will automatically be logged into Examity. But, if you are using Examity for the first time, you will still need to create a profile. Creating a profile is easy and only takes minutes. Follow these steps to create an Examity profile.

 

I need to take my ACCUPLACER exam. How do I create a profile?
Reference the email from your institution to create your profile for your exam. For more information about Examity and ACCUPLACER, please visit our ACCUPLACER site.

 

Can I have my child or pet in the room with me when I am taking my exam? What happens if my child or pet accidentally comes into the room?
It depends on the exam rules your test sponsor sets up. Before testing, you should check the rules of your exam by selecting "View Exam Rules" on the exam card on the Examity dashboard.
 


Your test sponsor may request that we terminate an ongoing exam if anyone enters the room, including children and pets. If you foresee a child or pet entering the room you will be testing in, please let your test sponsor know before the day of your exam. 
 

When I press "End Proctoring Session," does it submit the test answers?
Clicking on the "End Proctoring Session" button simply disconnects you from Examity and ends our software. To submit your exam answers, you will need to select the submit button.


The sidebar is blocking the exam content/the submit button, what do I do?


You can click on the left and right arrows on the top of the Examity sidebar to move it to the left or right side of your screen. You can select the downward-facing arrow to collapse the sidebar, and press it again to expand it. For a visual representation, view the "Navigating Examity" section of our

Troubleshooting Guide

.
 
How do I know what supplies I can use for my exam, like a calculator or scratch paper? Can I use Microsoft Excel to make calculations?


To know what materials you are allowed to have for your exam, first, go to the Examity dashboard. Then, navigate to the exam card, and click on "View Exam Rules." Typically, the materials permitted are listed under "Additional Rules." If you are taking a live proctored exam, the proctor will let you know what materials you can use. If you have any further questions, please reach out to your test sponsor.

 

My voucher code is invalid. What do I do?


Please refer back to your organization or institution. However, if your voucher has an incorrect date of birth or last name, you can contact

our support team

for troubleshooting.
 
How do I schedule an exam?
To schedule an exam:  

First, log into Examity. You will be taken to the Examity dashboard. 

Next, navigate to your exam card, and select the "Schedule Exam" button.

Select the day you would like to take your exam, and then select the time.

Then, click on "Schedule Appointment." Please note that some organizations and institutions require payment for scheduling your exam. You can make a payment by debit or credit card. Examity accepts all major debit and credit cards.
 
I took the system test and my webcam/audio/other parts of my device don't meet requirements.
When you go to the Examity dashboard, an automatic system check will be performed. It will check if your device meets our requirements. If one or more parts of the system do not meet requirements, the icon(s) will turn red. Clicking on the icon will display instructions on next steps you can take to pass the system check.
 

If you need assistance, check out our resources for discounted or free hardware and internet service. 
 

I need a password or access code for my exam and I don't have it.
If you're taking an exam using one of our automated solutions, you can click on the "Insert Password" button located in the Examity sidebar. For live proctored exams, a proctor can instruct you on how to enter the password or access code, or they can enter it for you. If you still need help, contact our support team.

 

My internet connection at home is really poor. What other options do I have?


A stable internet connection of at least 2Mbps upload and download speed is one of the requirements for testing with Examity. We recognize that not every test-taker has access to this. Please view our resources for

free or discounted internet service

.

 
 

 
I'm an overseas test-taker. Will I have to take my exam at an unusual time?
Examity offers exams 24/7, 365 days a year to meet every test-taker's needs.
 

 

I require an accommodation for my exam. Will I be granted additional time/color overlays/frequent restroom breaks/larger font sizes?


Examity supports a large number of

accommodations

. To request accommodations, please contact your test sponsor prior to your exam.
  
Will I be able to go to the toilet, eat, or drink during the exam?


This would be dependent on your test sponsor and any rules they have.

 

What is happening to any video footage of me? Is it being stored? And if so, when will it be deleted? Or made available to my institution/organization or test sponsor?


Please review our

Privacy and Security

page for more information.

 

What happens if I am late for the exam?


We will hold an exam appointment for up to 30 minutes past the scheduled exam time. Beyond this time, an exam appointment status will be marked as "No Show" by our system. If you are able to arrive within this 30-minute period, we will be able to accommodate you. But, if you arrive past the 30-minute mark, you will need to schedule another exam appointment.

 

Will there be an opportunity to provide feedback about the exam after I have taken it?


After you end your proctoring session, you will be presented with a brief survey about your experience with Examity. If you would like to provide feedback in greater detail, please fill out the

"Report Your Experience" survey

.
We hope that this information was helpful, and answered some of your questions. For more information, check out our Resources page, or contact our test-taker support team.
Are you interested in learning more and furthering the conversation with us?
Please fill out the form below and we will be in contact shortly.