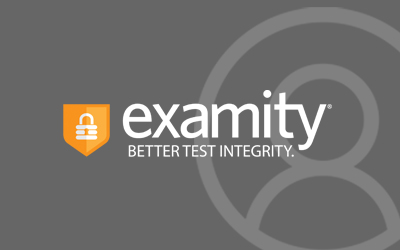 Setting up a profile takes only a few minutes and allows Examity to be sure that you, and only you, are taking the exam.
Creating Your Profile in Four Easy Steps
Creating Your Examity Profile in Four Easy Steps
You've got this. You've studied hard, and you're ready to ace this test! Don't let last-minute procedures stand in your way. Create your Examity profile in advance.
Before the day of your exam, we recommend you log in to Examity through your learning management system (LMS), common systems include Canvas, Blackboard, Moodle, D2L, or Sakai. Your Examity dashboard is typically available through the course link within your LMS. If you can not locate the link, please check in with your instructor. 
Once you've reached the dashboard, please select the "My Profile" icon, and follow these four easy steps.*
Step 1: Enter Your Phone Number and Time Zone
You will start off by entering your phone number and selecting your time zone. Why is this information important? If you get disconnected during an exam, we'll reach out via your phone number. And, your time zone will ensure that you always know the correct time for your proctoring appointments. Please make certain that the time zone is set to the location in which you will be testing. 
Step 2: Upload a Photo ID
The next step is to upload a photo of a government-issued photo ID. This can be a driver's license, passport, military identification card, or another form of acceptable ID. Just be sure that your name and photo are visible and that the image is clear and bright enough to be easily read. Please note: you will need to have this ID with you on exam day to verify your identity.
Step 3: Select Challenge Questions
Now, you will need to select and answer three challenge questions. These questions are specific enough that only you will know them, yet general enough that you'll remember the answers whenever prompted. Your answers are never shared with anyone and are kept securely in the Examity database.
Step 4: Type Your Name*
Simple, right? The final step of completing your profile is to type your first name, last name, and first name and last name together, with no capital letters or spaces. This creates a digital signature that captures your unique typing rhythm. On exam day, you will be asked to submit your signature for authentication. Once submitted, Examity will compare your test day signature against the signature within your profile.
That's it. Setting up a profile takes only a few minutes and allows Examity to be sure that you, and only you, are taking the exam.
If you have any questions about setting up your profile, you can always contact Examity support 24/7/365 via phone, email, and live chat. So take a deep breath, relax, and remember that Examity is here to preserve the integrity of that "A."
* May not be applicable for all clients.