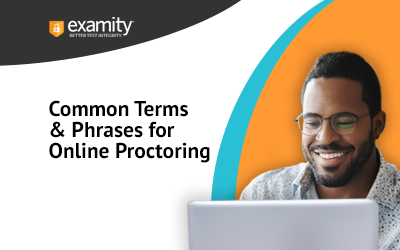 Common Terms & Phrases for Online Proctoring
While online proctoring has been a valuable tool for many years, for some, it is still a new experience. If you're just starting out, here are some terms and phrases to familiarize yourself with the industry and process.
•

"Approved by auditor" status:

Once the exam is complete and Examity's human auditing team has ensured that timestamps and proctor notes are accurate, the status changes to "approved by auditor." The exam recording will then become available to administrators. Most sessions are "approved by auditor" within 48 hours of the test's completion.*
•
Auto proctoring:
Proctoring that is conducted without the involvement of a human. The test-taker logs in to the testing site, their ID is automatically checked, and their test environment and computer screen are recorded (via images and/or video) for integrity purposes and to document any potential exam rule violations. 
•
Browser lock:
Software that prevents a test-taker from using their internet browser to search other webpages and ensures they remain on the testing web page. 
•
Screen mask:
Software that obscures the view of the testing web page in the event that the test-taker is disconnected from the online proctor.
•
Human audit:
The recording of the test-taker's testing environment and computer screen are reviewed by an Examity team member. Auditors examine all violation flags to check for accuracy, rule out false positives, and provide further context to the test administrator or instructor. 
•
"Incomplete" status:
A status set on exam sessions when a test–taker is not able to complete and submit their exam. This most often occurs due to technical errors on the user's computer. For exams marked as "incomplete," new testing sessions can be reserved in the same exam window. 
•
Live, low-ratio proctoring:
Our Live Proctoring solution offers a low average proctor ratio, meaning one proctor watches only a few test-takers at the same time. This helps ensure that maximum supervision is provided and no details are missed. 
•
"No show" status:
This is the label given to an exam, which is listed in both administrator reporting and on the test-taker dashboard. It notes that the user did not arrive for their scheduled session. For exams marked as "no show," new testing sessions can be reserved in the same exam window. 
•
"Pending at auditor" status:
Once an exam session is complete and the test is submitted, recordings are sent to Examity's human auditing team. They do an additional review of the footage to ensure flags are marked appropriately and that proctor notes are concise.* 
•
Proctor exam block:
Gives the proctor the ability to intervene and prevent the test-taker from continuing with their exam in order to address possible violations, infractions, or technical issues that the test-taker might be facing. Client success managers can work with their clients on instructions for the proctors on which violations and infractions proctors should intervene.
•
Violations with video:
The entire test is recorded and a video of the session is provided. An exam overview with color-coded flags denoting any violations, potential testing rule infractions, or technical issues will be generated.
We are always here to answer any questions you may have and help with your online proctoring needs. Is there a term we overlooked? Contact us via our form and we'll add it to the list. 
* This is not applicable for automated standard exams. Exams with this status and only one test attempt allowed will not allow the test–taker to schedule another exam in the same assessment window.
Are you interested in learning more and furthering the conversation with us?
Please fill out the form below and we will be in contact shortly.