Online Proctoring
Troubleshooting Guide
Having some trouble? We've created this guide to help you through our online proctoring process. Good luck on your exam!
Browser Reminder:
Google Chrome or Mozilla Firefox is required.
Be sure you are not in private, incognito, or full-screen mode.
Examity must open in a new tab after clicking the link in your LMS (Canvas, Blackboard, Moodle, Sakai, D2L). If it does not, right-click on the link and select "Open in a new tab."
You must stay within the Examity window throughout your exam.
Important

!
You must uninstall or disable all extensions, pop-up blockers and ad blockers, except for the Examity Proctoring Tool. You will not be able to use Examity with other applications running.
You may check your installed or enabled tools by going to your browser, selecting settings, and extensions.
Example shown is Google Chrome Browser
Internet Speed Reminder:
You'll need at least 2 Mbps of upload and download speed to complete your exam on Examity. Remember, you can confirm your internet speed by running our Computer System Requirements Check. Always run this check again right before you start your exam.
Would you like to see a proctoring session in action? Check out our demonstration video.
Begin Exam
:
My begin exam button isn't enabled.
Remember you must grant access to your webcam and microphone, then share your screen for this button to be enabled.

Make sure your screen is not being shared by another application.

For macOS users, you may need to "allow" your browser to record your screen through your Mac "System Preferences." To enable this setting in macOS Catalina, go to your System Preferences,

then Security & Privacy, then Screen Recording, and select the checkbox next to you browser (i.e. Google Chrome, Firefox, etc). Please note: Your browser will not appear unless we've previously asked to share your screen. Watch this

short video

to see how. If you're running a different version of macOS, the steps might be slightly different.

Here

are some 

helpful resources to find this setting.
Check that the extension is still installed by looking for the small orange lock icon at the top right of your browser (see image below).
Chrome
Extension
:
You will use the Examity extension to insert the exam password. If you don't see the Examity extension at the top right, you may need to "pin" it to the extensions menu.
I can't use other applications because my Examity screen is constantly appearing on top of all other applications.
PC users:
Open the Task Manager using Ctrl-Alt-Delete. Select the application you would like to use.
Mac users:
– Option 1: Use the Ctrl-Down Arrow to view all open windows and select your desired application.
– Option 2: Right-click on the running browser icon on the dock (menu bar at the bottom of your screen),  and select the tab with running exam. Then switch over to the desired running application.
Time Zone:
You may not be testing in the same time zone as your institution. This can cause confusion about when your exam takes place. To set your time zone, click the "My Profile" tab and where it says "Time Zone," select the one for the region you'll be testing in. Then press "Save." You can view your selected time zone at any point in the top right-hand corner of the Examity dashboard. Make sure your computer is set to the same time.
Authentication:
During authentication, I navigated away from the Examity screen and now I'm stuck.
Close out of everything and attempt to restart your exam session. If you are unable to restart, please reach out to our support team.
Passwords
: 
My password box disappeared.
Click the Examity extension, located at the top of your browser, then select "Insert Password."

I clicked on the "Get Password" too early and now the button says "End Session.
In the bottom right corner, it will say "Click here to re-enter your password." Press this on the password entry screen and it will populate.
My password is not working.
– Option 1: Enter text into the box and delete it before selecting "Insert Password."
– Option 2: Once the password has pasted in, add a space then delete the space before submitting the password again.
Screenshare:
In your browser, you must click the image of your screen first to enable the share button.
In Firefox, make sure to select "Entire Screen" when prompted to share.
Starting Over:
If for whatever reason you have to start your exam session over, or you failed to connect to the exam, it's important to make sure the Examity extension is removed before starting over. Below we've outlined the steps you should take to start fresh.
1. Right click on the Examity icon at the top right of your browser.
2. Remove the extension from your browser.
3. Click the browser menu at the top right and select "Settings."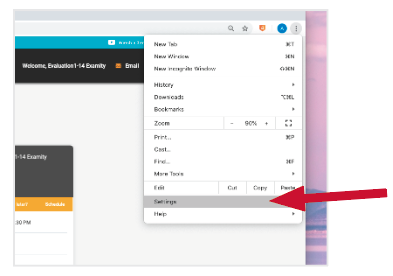 4. Select "Clear browsing data."
5. Check all three boxes and select a time range prior to your failed attempt. Then clear "Clear data."
For assistance, call 855-EXAMITY (select option 1), email [email protected] or chat directly with us through the Live Chat feature on the Examity dashboard.
To expedite your support inquiry, please have your exam ID or course name on hand.